What We Do
Splash History
Splash is a professional bathroom renovation contractor that has been serving Edmonton, Sherwood Park, St Albert, Spruce Grove, Stony Plain, and other surrounding communities for over 26 years.
BBB Members
All Splash stores are individually owned, and operated by the owners…and are proud members of the Better Business Bureau of central and northern Alberta … and we have worked hard to achieve and maintain our A+ rating.
Professional renovations done in less time with less disruption
At Splash, we provide homeowners with a sensible method of receiving a complete and professional bathroom renovation, in less time, and with less disruption than other methods.  Tub or shower replacements take just a couple of days, and most complete bathroom renovations are finished in less than a week. We look after look after removal and disposal of your old fixtures, and daily cleanup along the way.
Bathroom renovations can be complicated.  Our installers are experienced, and have all the specialized tools and up to date waterproofing experience.  Our Installers treat our customers and their homes with respect, and focus on your job from start to finish, with no running from job to job.
In addition we don't go over your old tub or drywall; we replace them, and remove any mold or mildew that has accumulated. Even with that, renovations take much less time than you may expect, and professional results are guaranteed by our company.
Full Size Displays
In our showrooms you can view full size displays fitted with with fixtures and finishes we have learned to trust…so you can too.
We have been shopping for years, and have narrowed out products to a line-up that offers style, performance, and proven durability. Our staff are experienced in assisting with fixture choices and color schemes. We make it easy.
We specialize in
Replacing bathtubs with walk in showers for ease of use.
Replacing old worn out bathtubs with newer more functional versions.
Replacing or enlarging old shower stalls.
Complete bathrooms including faucets, toilets, vanities, and the latest ceramic, porcelain, glass, and natural tile.
Basement bathroom renovations.
Powder room renovations.
Installing Laminate, Granite, Quartz, and Solid Surface countertops.
and more….
If you want your bathroom renovation completed promptly … and professionally…call us.
(note ; showroom hours vary please call ahead)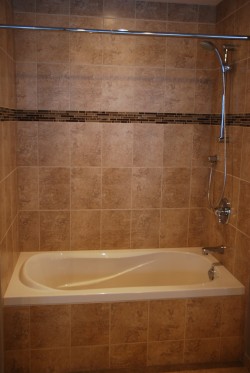 WEST END LOCATION
10611 170 Street, Edmonton
780-486-2727
SOUTH SIDE LOCATION
7445 Roper Road, Edmonton
780-468-1163