Shower replacements
Showering has become the ritual of the day for most of us.
And since showers come in many shapes and sizes, it is important to choose the shower that is right for you.  Rectangular, curved, neo angle, square, corner style …. We can help…
Freedom
Because of their freedom of movement, showering is becoming more popular among those with limited mobility.  Our showers are modern and easy to clean.  They feature options such as grab bars, comfortable seating, and hand held shower heads on adjustable slide bars.
Full sized Displays
Our showrooms have full sized, fully priced displays, so you can see how our showers will look in your home, and how much it will cost. Everything is Included.
We make it easy
From removal of your old shower, through to final cleanup, a shower replacement only takes a couple of days. We do all the work so you don't have to. Prompt job completion, with minimal disruption to your home, sets Splash apart from all other contractors.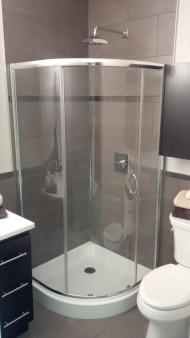 WEST END LOCATION
10611 170 Street, Edmonton
780-486-2727
SOUTH SIDE LOCATION
7445 Roper Road, Edmonton
780-468-1163