Get a Quote
At Splash it's Easy
Getting a quote for your bathroom renovation is not complicated, but keep in mind most of the cost of renovating is about what you are putting in … not what you are taking out.
Fully priced displays
Our Showrooms have full sized, fully priced displays...so it easy to discover renovating costs. Everything is incuded.  Once you have made personal selections in the showroom,  our Splash Quoting System can thencustomize a quote to you fit your needs.
Three easy steps
1. Draw a rough sketch with some dimensions….they need not be exact

2. Call us for showroom hours or to make an appointment.
3. Stop in to see what you may like in the showroom…or let us know what you are looking for. In many cases we can prepare a personalized quote in a few minutes.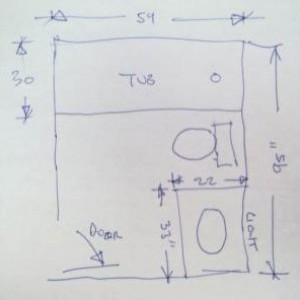 WEST END LOCATION
10611 170 Street, Edmonton
780-486-2727
SOUTH SIDE LOCATION
7445 Roper Road, Edmonton
780-468-1163