Replace your tub with a new bath and surround
Try on our baths for size
Our showrooms have full sized, fully priced displays, so you can see and feel how our baths will look in your home, and how much it will cost. Everything is Included.
What sets us apart
Bathroom renovations can be complicated. Our Installers are trained and have all the specialized tools. They make hard jobs like removing your tub look easy. Our installers focus on your job from start to finish, with no running from job to job, so installations take only a couple of days to complete.
No worries
Worried about mold? At Splash we do not go over your old wall finishes. We strip back to the studs and remove mold or mildew that has accumulated. Tile products and procedures have come a long way. Proper waterproofing means you will never have to deal with that problem again in your lifetime. We can show you why.
We make it easy
From removal of your old tub, through to final cleanup, a tub and shower replacement only takes a couple of days. We do all the work so you don't have to. Prompt job completion, with minimal disruption to your home, sets Splash apart from all other contractors.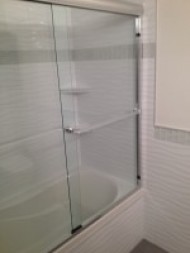 WEST END LOCATION
10611 170 Street, Edmonton
780-486-2727
SOUTH SIDE LOCATION
7445 Roper Road, Edmonton
780-468-1163